Box Type PSA Nitrogen Generator / 0.1.0.5 Mpa Pressure Nitrogen Making Machine
Brief Introduction for PSA Nitrogen Generator Principles
The whole nitrogen generating system include air compressor, cooling dryer, AB tower, control instruments, air storege tank, nitrogen storage tank, nitrogen buffer tank.
Production Flow Chart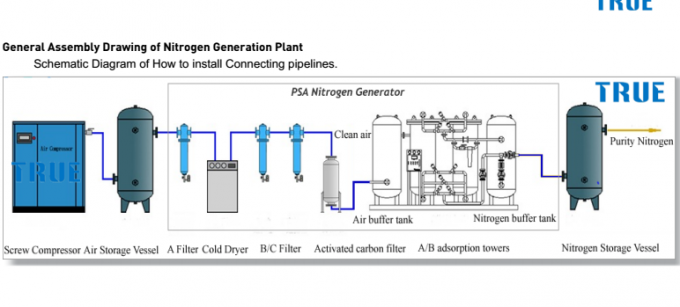 Specification
1. Place of Origin: Jiangsu,China.
2. Brand Name: TRUE.
3. Model No.: TY-15.
4. Color: Silver,bright and white.
5. Nitrogen flow: 15M3/h.
6. Nitrogen purity: 99.99%.
7. Dew point:-45 degree Celsius.
8. Warranty period: One and a half years.
9. Product life: At least 10years or longer.
10.Outlet pressure: 0.1-0.65Mpa.
11.Material: Stainless steel.
12.Packaging details: Standard,if need wooden,will charge for cost.
13:Delivery time: Within 30days,when received 50% advance payment.
Brief Technical Parameters index
1.) Nitrogen flow: 20Nm3/h.
2.) Nitrogen purity: 99.5-99.99.99%.
3.) Nitrogen pressure: 0.1-0.6 Mpa.
4.) Dew point: from -60 to -45 degree celsius.



Application
Food Packing
N2 is stable. Nitrogen gas is usually used to drive out the oxygen and to slow down the respiration and the oxidization. Nitrogen gas also can control the growth of the bacteria. Besides, nitrogen gas is water and oil insoluble. The food rarely adsorbs the nitrogen gas, so the package will never collapse. The nitrogen gas used in food industry should be produced under the standard of food security, so it can be produced with the PSA nitrogen making technology and membrane separation nitrogen making technology. With the rapid development of the food packing industry, nitrogen gas is used by more and more food producer.
Modified Atmosphere Packaging of the Dry Food
There is almost no water in the milk powder, coffee, potato chip, cheese, pine cone, peanuts, etc. So, the microorganism can't grow under this circumstance. The food only goes sour because of the oxidization. For example, the peanuts and the potato chips will go sour because of the oxidization and the laver will change color because of the oxidization. The aroma and the vitamin will go at the same time. The modified atmosphere packaging of these foods should focus on how to inhibit the oxidization of these foods. The widely used technology is vacuum pack with nitrogen. This can lower the oxygen purity gas below 1% so to refrain the oxidization of the food.
When the process adopts lifting air, oxygen and nitrogen have different diffusion rate and adsorptive capacity to separate oxygen from nitrogen on carbon molecular sieve(CMS). When air is compressed to 0.8MPa, air source enters in pressure-swing adsorption tower for separation after being purified through dry and oil-water separation process (filter). Oxygen molecules are diffused and adsorbed in carbon molecular sieve under pressure. Non-adsorbed nitrogen is discharged from outlet of adsorption tower. Oxygen is desorbed, discharged and purged in adsorption tower under depressurization. Moreover, adsorbent can be recycled.
Technical Features
1. Only equipped with micro- oil or oil-free air compressor. Open the nitrogen generator and then nitrogen will be generated immediately. The nitrogen purity range is adjustable, the regulating range is 95%- 99.99%.
2. The whole set of machine is automatic and equipped with converter circuit energy-saving control to make the whole nitrogen generator machine operate under a economic, effective state.
3. Nitrogen meter continuously monitoring nitrogen purity online. The structure of the equipment is compact and the size is small, so this machine is easy to clean.
4. This machine is optimal designed and durable, and the investment reclaims fast.
Our Services
Pre-sale services
Advisory Services: Solve your problems one to one, and provide the most suitable and energy saving plan.
Technical Support: Provide you the security drawings of the whole machine and technological equipment flow chart; send our technician on mission to help you if needed.
After-sale Service
Technical Support: Provide free installation guide and operation training, and the after-sale technical documents to the customers.
Quality Assurance: Three guarantees are valid in one year since the machine leave the factory. We provide maintenance service during all the machine's life.
Customer Service: We will make periodical return visit in order to know the service condition of the machine.
About us
Jiangsu Tongyue Gas System Co.,ltd. established in 2011,specializes in the production of nitrogen generators, air compressors, oxygen and other gas processing equipment. The products are widely used in Oil and gas industry ,medicine, chemical industry, chemical fiber, metallurgy heat treatment, electronics, steel, coal, and other industries.
Our company has a number of patented technologies and intellectual property rights. Now we have 8 engineers,60 employees. We insists on using high-quality imported parts, and have established and improved production processes, quality control system, and after-sales service evaluation system, to provide best service to each customer.
Our businesses cover throughout the country, and we also exported our products to Southeast Asia, Europe ,Mid east and other overseas markets.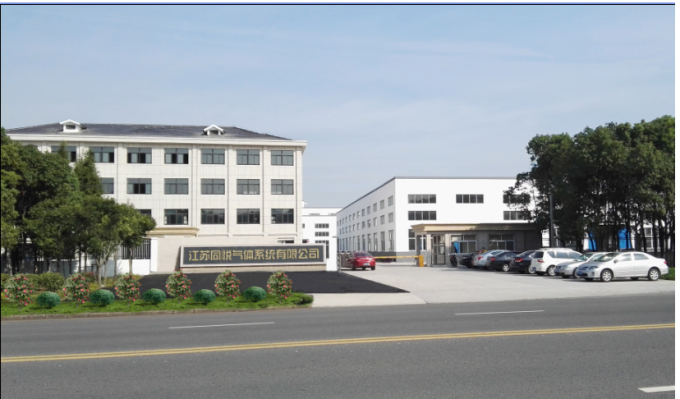 More information please contact below:
JIANGSU TONGYUE GAS SYSTEM CO.,LTD (Nitrogen generator)
NO.2030 ZHENCHENG ROAD JIANGYIN CITY JIANGSU PROVINCE CHINA
Mob:86- 15995282376
Tel:86-510-86625061 Fax:86-510-86625069
http://www.nitrogengeneratorequipment.com
http://www.tyn2.com/
干燥剂空气干燥器用氧化铝陶瓷球分子筛吸附剂
合成深加工后形成的活化分子筛粉末
用于脱水的活化4A沸石粉末分子筛吸附剂
氧化铝化学填料球分子筛活化陶瓷填料显示高稳定性