Carton Type 99.99% PSA Nitrogen Generator for Laboratory Small Consumption
2Nm3/h, 99.99% nitrogen generator carton type small output for laboratory or small consumption
The whole system of the equipment includes air compressor, cooling dryer, fillers, nitrogen generator adsorption tower (inside the carton )
1.
Technical Indexes:
Nitrogen Output: 2Nm3/h,
Nitrogen Purity: 99.99%
Rated Working Pressure: 0.6Mpa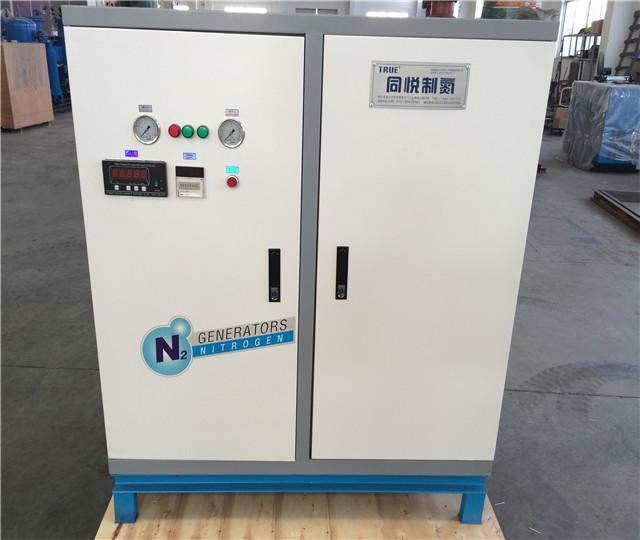 PSA Principle:
Under the balance of adsorption, when any kind of adsorbent adsorbs the same gas, the higher the gas pressure, the greater the adsorption capacity is. Otherwise, the lower the pressure, the smaller the adsorption power is.
As the chart shows, carbon molecular sieve shows difference in adsorbing oxygen and nitrogen. Carbon molecular sieve is a substance with a lot of micropores inside. The PSA principal is to achieve the separation goal of oxygen and nitrogen which based on the adsorption quantity difference in the carbon molecular sieve when the pressure is certain.
When the pressure rises, the carbon molecular sieve adsorbs the oxygen and produces the nitrogen gas. When the pressure decreases, the carbon molecular sieve starts to desorb the oxygen until the pressure equals to the ordinary pressure. At that time, the carbon molecular sieve desorbs the oxygen completely. The PSA nitrogen generator is usually equipped with adsorption towers. It controls the pneumatic valve by PLC, thus the two adsorption towers can produce the nitrogen gas alternatively. One tower adsorbs the oxygen and produces nitrogen gas, the other desorbs to regeneration to produces the required nitrogen.
Packing Details
Wooden Cae Packing/ PE
干燥剂空气干燥器用氧化铝陶瓷球分子筛吸附剂
合成深加工后形成的活化分子筛粉末
用于脱水的活化4A沸石粉末分子筛吸附剂
氧化铝化学填料球分子筛活化陶瓷填料显示高稳定性