Industrial Nitrogen Generator with adjustable Outlet Pressure 0.1-0.6Mpa
Industrial Nitrogen Generator with adjustable Outlet Pressure 0.1-0.6Mpa
Specification
1. Place of Origin: Jiangsu,China.
2. Brand Name: TRUE.
3. Model No.: TY150-59
4. Color: Silver,bright and white.
5. Nitrogen flow: 150Nm3/h
6. Nitrogen purity: 99.999%.
7. Dew point:-60 degree Celsius.
8. Warranty period: One and a half years.
9. Product life: At least 10years or longer.
10. Outlet pressure:35 bar
11. Material: Stainless steel/Carbon steel
12. Packaging details: Standard,if need wooden,will charge for cost.
13: Delivery time: Within 35days
| | |
| --- | --- |
| Model: | TY150-59 |
| Nitrogen output Capacity | 200Nm3/H |
| Working Pressure: | 0.8Mpa(8bars) |
| Nitrogen Purity | 99.999%(vol) |
| Dew Point | (-)40 degree |
| Outlet Pressure | 0.1-0.65Mpa(adjust) |
| Working Voltage | 220V/50HZ/1KW |

Applications
1.) Metallurgy: For anneal protection, agglomeration protection, nitrogenizing, furnace washing and blowing, etc. Used in fields such as metal heating treatment, powder metallurgy, magnetic material, copper process, metallic mesh, galvanized wire, semiconductor, etc.
2.)Chemical and new material industries: For chemical material gas, pipeline blowing, gas replacement, gas protection, product transport, etc. Used in fields such as chemical, urethane elastic fiber, rubber, plastic, tyre, polyurethane, biological technology, intermediate, etc.
3.)Electronic industry: For encapsulation, agglomeration, anneal, deoxidization, storage of electronic products. Used in fields such as peak welding, circumfluence welding, crystal, piezoelectricity, electronic porcelain, electronic copper tape, battery, electronic alloy material, etc.


Features of Our Products
Full Automation
All systems are designed for unattended operation and automatic Nitrogen demand adjustment.
Low Electric Energy Consumption
All systems are designed for Energy-Efficient.
Lower Space Requirement and Short installation period
The design and Instrumentation makes the plant size very compact, assembly on skids, prefabricated and supplied from factory. Tongyue Machinery has own TRUE brand of gas separation equipments.
Installation is very easy and convenient.
Fast Start-Up
Start-up time is about 30 minutes to get desired Nitrogen purity. So these units can be switched ON & OFF as per Nitrogen
Demand changes.
High Reliability
Very reliable for continuous and steady operation with constant Nitrogen purity. Plant availability time is better than 98% always.
Molecular Sieves Life
Expected Molecular sieves life is more than 10-years i. e. Whole life time of Nitrogen plant. So no replacement costs.
Simple operation and maintenance
All systems are designed by integrated solution for easy-operation and easy-maintenance.
Parameters of the 99%-purity CMS is as follows
| | | |
| --- | --- | --- |
| serial number | Parameter content | index |
| 1 | tap density | 0.68t/m3 |
| 2 | particle diameter | 1.8~2.0nm |
| 3 | Hardness | ≥130N/tablet |
| 4 | (Nm3/t) | 250 |
| 5 | service life | over 10 years |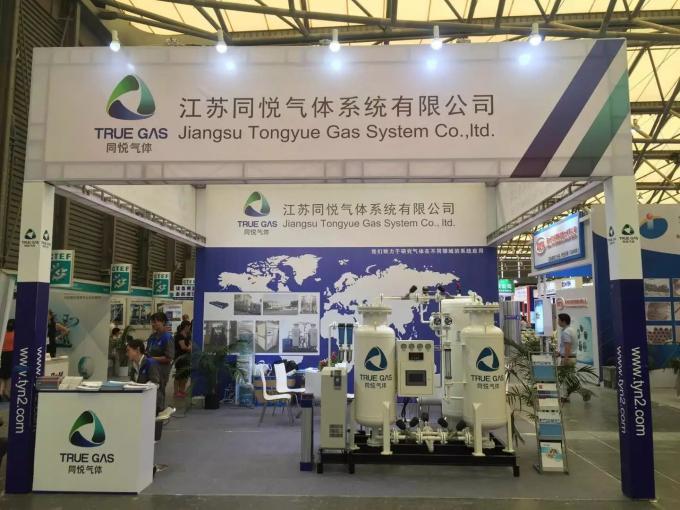 干燥剂空气干燥器用氧化铝陶瓷球分子筛吸附剂
合成深加工后形成的活化分子筛粉末
用于脱水的活化4A沸石粉末分子筛吸附剂
氧化铝化学填料球分子筛活化陶瓷填料显示高稳定性