3000Nm3 / H High Purity Nitrogen Generator With Compressed Air Pretreatment System
3000Nm3 / H High Purity Nitrogen Generator With Compressed Air Pretreatment System
1. Nitrogen system
1 air compressor
2 Compressed air pretreatment system (dryer and multistage filters)
3 Air buffer tank
4 PSA nitrogen generator
5 Nitrogen gas buffer tank
6 Control system(including man-machine control interface)
7 Instrument and meter (installed in nitrogen generator)
2. Required air consumption
Item
Technical parameter
Remark
Flow rate
>1200m3/h
Pressure
>0.8Mpa
PSA Nitrogen Generator
Item
Technical parameter
Remark
Model
PM-1200
N2 output
1200Nm3/h
Standard state
N2 purity
≥95%
Non-oxygen content in GB
Pressure
0.8Mpa
Outlet pressure
0.1-0.6Mpa
Adjustable
Dew point of N2 outlet
≤-45°C
Atmospheric dew point
3. Fully intelligent, automated, easier to operate
Microcomputer control and (industrial computer system) touch screen control are built in the machine. From the microcomputer touch screen, we can understand the nitrogen generator as follows:
(1) Real-time working condition, total running time, working process and opening and closing statement of the valve.
(2) When operating, just need to turn on and off the machine, set the parameters and view the system fault information through the touch screen.
It truly realizes the unattended duty, intelligent and automated operation of the equipment. It can function as the real-time monitoring equipment of the user's control room. If required, we can monitor distantly parameters such as the flow of finished nitrogen, purity, pressure in the user's DCS system.
4, Normal technical for nitrogen generator
| | |
| --- | --- |
| Type | TY500-99.9% |
| N2 output flow | 500Nm3/h |
| N2 purity | ≥99.9% |
| Total power | 1Kw |
| N2 pressure | 0.1-0.7Mpa(adjustable ) |
| N2 dew point | ≤-45℃ |
| Oil content | ≤0.001ppm |
| Air consumption | 37.5Nm3/min |
| Working type | continuous working |
| operating type | Automatically |
| Manufacturer | Jiangyin Tongyue |
| Quantity | 6set |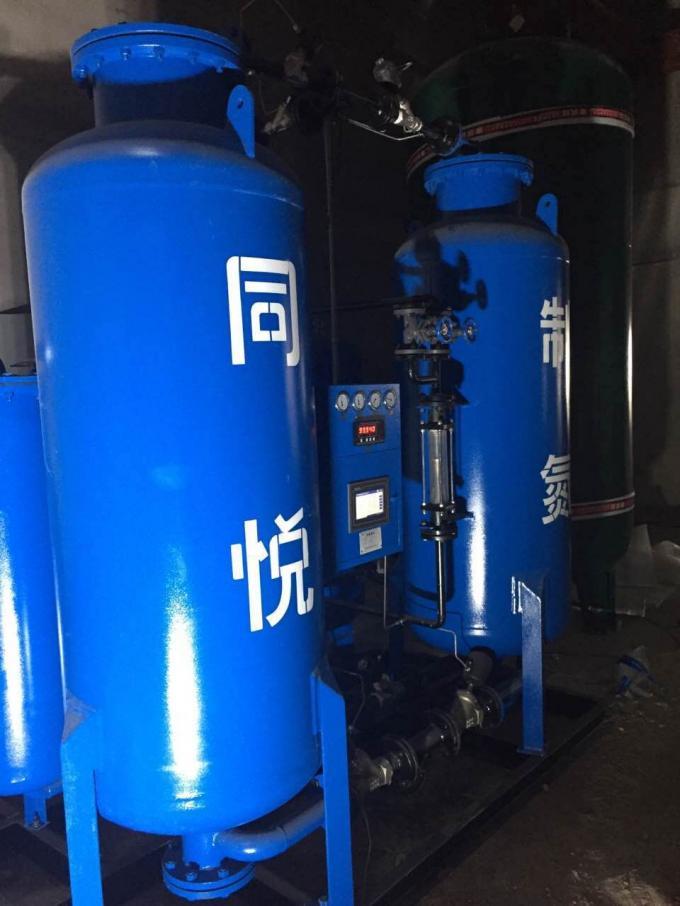 | | | | |
| --- | --- | --- | --- |
| serial number | Patent No. | Patent No.( Accept No.) | patent families |
| 1 | PSA highly efficient starting device | Patent No.:ZL 2010 2 0139342.9 | utility model |
| 2 | Automatic control system of nitrogen generator with frequency conversion | Patent No.:ZL 2012 2 0408277.4 | utility model |
| 3 | Exhaust gas recycling and utilization device | Patent No.:ZL 2013 2 0867590.9 | utility model |
| 4 | Automatic control device for nitrogen purity | Patent No.:ZL 2013 2 0867632.9 | utility model |
| 5 | PSA constant pressure constant regeneration system | Patent No.:ZL 2010 2 0139343.3 | utility model |
| 6 | PSA cyclone umbrella type honeycomb air flow diffusion device | Patent No.:ZL 2013 2 0139344.8 | utility model |
| 7 | PSA low decibel silencer | Patent No.:ZL 2013 209 39345.2 | utility model |
| 8 | Top gathering fountain type gas collecting device | Patent No.:ZL 2010 2 0569506.1 | utility model |
| 9 | Dynamic cylinder pressing device | Patent No.:ZL 2011 2 0015073.X | utility model |
干燥剂空气干燥器用氧化铝陶瓷球分子筛吸附剂
合成深加工后形成的活化分子筛粉末
用于脱水的活化4A沸石粉末分子筛吸附剂
氧化铝化学填料球分子筛活化陶瓷填料显示高稳定性