Box Style All In One TY 3Nm3/H Food Grade Air Products Nitrogen Generator With Long Term Service
Box style all in one TY 3Nm3/h Food Grade PSA Nitrogen generator with Long Term Service
Nitrogen flow: 0-2,000Nm3/h O2: ≤1ppm Dew point: ≤-70℃ Nitrogen purity: 99.99%-99.999%
Packaging

Size

Actual

Weight

Actual

Packaging Details

The normal package is wooden box(Size: L*W*H). If export to european countries,the wooden box will be fumigated.If container is too tigher,we will use pe film for packing or pack it according to customers special request.
molecular sieve cave. That's all for the PSA nitrogen generation process.
Nitrogen flow: 0-2,000Nm3/h O2: ≤1ppm Dew point: ≤-70℃ Nitrogen purity: 99.99%-99.999%
Equipment Features
Main Features:
1. Good stability, oxygen content can be controlled to be less than 5ppm at any time.
2. High purity, capability of keeping long-term stability when nitrogen purity is 99.9995%.
3. High reliability, manufactured according to the international standard.
Screw air compressor
ZLS 07A
Juagar

1set

Rated air capacity:0.6Nm3/min

Rated pressure:1.0MPa

Oil content in air:≤3ppm

Air temperature:≤ambient temperature +70-80℃

Power rating:5.5KW

Dimension: 1470*610*1000mm

Weight:245Kg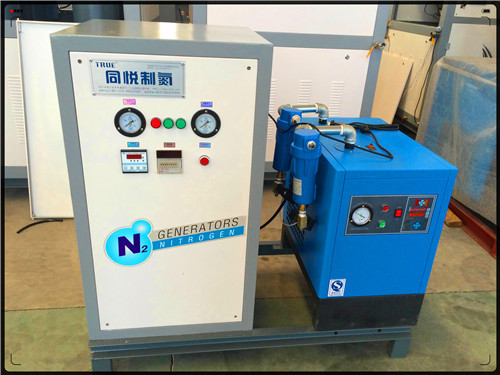 干燥剂空气干燥器用氧化铝陶瓷球分子筛吸附剂
合成深加工后形成的活化分子筛粉末
用于脱水的活化4A沸石粉末分子筛吸附剂
氧化铝化学填料球分子筛活化陶瓷填料显示高稳定性