High Purity Laboratory Nitrogen Generator PSA 0.1-0.65 Mpa Stainless Steel Housing
High Purity Laboratory Nitrogen Generator PSA 0.1-0.65 Mpa Stainless Steel Housing
Brief Technical Parameters index
1.) Nitrogen flow: 1-3000Nm3/h.
2.) Nitrogen purity: 97-99.9995%.
3.) Nitrogen pressure: 0.05-1.0 Mpa.
4.) Dew point: from -60 to -45 degree celsius.

Full Automation

All systems are designed for unattended operation and automatic Nitrogen demand adjustment.
Low Electric Energy Consumption
All systems are designed for Energy-Efficient.
Lower Space Requirement and Short installation period
The design and Instrumentation makes the plant size very compact, assembly on skids, prefabricated and supplied from factory. Tongyue Machinery has own TRUE brand of gas separation equipments.
Installation is very easy and convenient.
Fast Start-Up
Start-up time is about 30 minutes to get desired Nitrogen purity. So these units can be switched ON & OFF as per Nitrogen
Demand changes.
High Reliability
Very reliable for continuous and steady operation with constant Nitrogen purity. Plant availability time is better than 98% always.
Molecular Sieves Life
Expected Molecular sieves life is more than 10-years i. e. Whole life time of Nitrogen plant. So no replacement costs.
Simple operation and maintenance
All systems are designed by integrated solution for easy-operation and easy-maintenance.
Normal purity N2 generator main parts.
Description
Type
Quantity
Remarks
PSA adsorption tower
Professional design

2 pieces

/10kg

Jiangyin Shuangqiu
CMS
MSC-3KT-172
1320kg
Japan Takeda/Wutian
Vortex airflow
Professional design
2 pieces
Technical Carbotech from Germany
Self complement compact device
Professional design
2sets
Jiangyin Tongyue
single unit processing part
/
1 set
SMC-Japan
Sample pressure reduce valve
/
1 piece
SMC-Japan
Direct current 24V power
/
1 set
Taiwan-Mingwei

Pneumatic valves

DN80
5 pieces
Burkert Germany,approve
DN40
4 pieces
DN15
1 pieces
Magnetic valve
4V210-24V
10 pieces
Taiwan Airtac
Metal flow meter
LZZ-40
1 piece
Changzhou Shuanghuan
Control system
TPC7062K
1set
(color touch screen )Kunlun Tongtai
Muffler
TY-300X
1 set
Jiangyin Tongyue
Pipe valve system
bprofessional produce
1 set
Jiangyin Tongyue
PLC controller
S7-200
1 set
Siemens Germany
Nitrogen analyzer
P860-3N
1 set
Shanghai Changai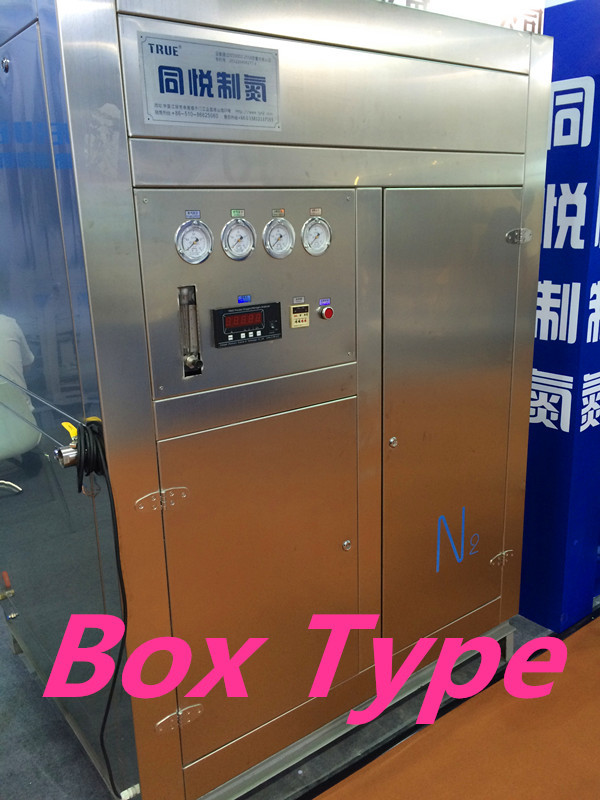 Factory name/address
Manufactured item
annual production capacity

Jiangsu Tongyue Gas system Co., Ltd

2030 Zhengcheng Road, Xishiqiao Town, Jiangyin City

pressure swing adsorption nitrogen geneerator
350 sets/year

Ammonia decomposition hydrogen production equipment

300 sets/year

methanol reforming hydrogen

50 sets/year
other gas equipment
90 sets/year
干燥剂空气干燥器用氧化铝陶瓷球分子筛吸附剂
合成深加工后形成的活化分子筛粉末
用于脱水的活化4A沸石粉末分子筛吸附剂
氧化铝化学填料球分子筛活化陶瓷填料显示高稳定性