Hotel Usage Food Fresh Packing Psa Nitrogen Generation System High Purity 99.99%-99.9995%
Hotel usage food fresh packing Small nitrogen generator high purity 99.99%-99.9995%
Food Grade Nitrogen Generator System Composition
The food nitrogen making machine system is consist of compressed air purifying components, air tanks, gas fraction unit, nitrogen gas buffer tank. The compressed air, which the air compressor provides, enters into the compressed air purifying components at first. The pipe-line filter removes most of the oil, water and dust of the compressed air. And then the compressed air will be further removed the water buy the freeze drier and the oil and dust of it will be removed by the fine filter. And the ultra fine filter will purify the compressed air deeply afterwards.
Based on the system working condition, a compressed air degreaser is designed to prevent trace penetration of the oil and protect the carbon molecular sieve completely. The precisely designed air purifying components can prolong the working life of the carbon molecular sieve. The clean air purified by these components can be used as instrument air.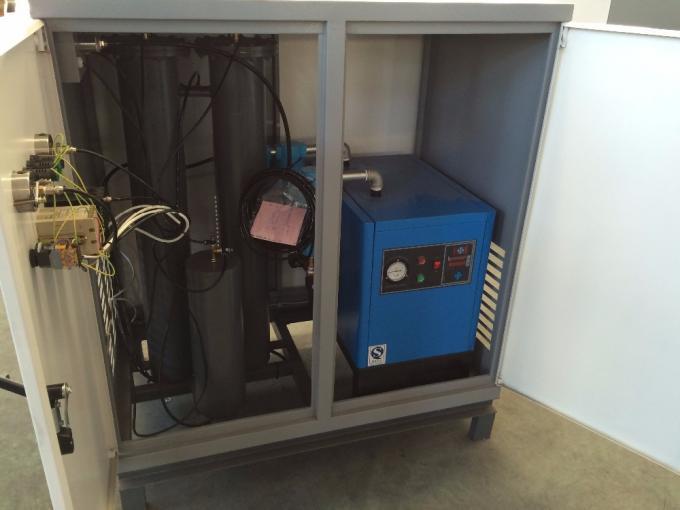 Technological Advantages
Close Air Handling System;
Special Low Shunt and Non-Wear Soft Clamping Device.
endif]>Long-life Pneumatic Valve
Innovative Low Noise Silencer
Unique Touch Switch and Liquid Crystal Display
endif]>High Automation and Can be Unattended
Equipment Structure Compact and Reasonable
Produce Nitrogen Fast in Short Time
Product Features
1. The nitrogen purity can be adjusted from 95%-99.99%. The nitrogen gas is dry and its dew point is low, these help to preserve the food.
2. The machine features excellent cost effectiveness and fast capital payoff.
3. Its exterior is concise and small, so is to be conveniently cleaned and meet the high cleanliness requirement of the food industry.
4. The product is made of high quality equipments and its skillfully process makes itself durable in use.
Food Grade Nitrogen Generator Operation Cautions
1. Regulate nitrogen production valve according to the air pressure. To ensure the machine in a good condition, don't to raise the air flow.
2. The nitrogen gas valve opening should not be too large to ensure a best nitrogen purity.
3. The flow meter of Nitrogen analyzer should be adjusted to 0.5L/H.
4. The adjusted valve should not be turned or the nitrogen purity will be influenced.
5. The electric parts in the control cabinet and pneumatic pipe valve should not be touched randomly.
6. The operator should check the pressure gauge regularly.
7. Output pressure, flow indicator and nitrogen purity should correspond with the required valve. Once the problem happens, actions should be taken to solve.
8. Maintain the air compressor, air dryer and filters according to the technical requirements to ensure the air quality(The air source should be oil-freed)
9. Air compressor, air dryer should be maintained at least once a year. And the wear parts should be replaced and maintained accord to the equipment maintenance.
10. The carbon molecular sieve should be checked at least once a year for a certain degree of wear of the carbon molecular sieve.
11. To fill in the daily record form completely.
干燥剂空气干燥器用氧化铝陶瓷球分子筛吸附剂
合成深加工后形成的活化分子筛粉末
用于脱水的活化4A沸石粉末分子筛吸附剂
氧化铝化学填料球分子筛活化陶瓷填料显示高稳定性