White Gas Separation Equipment Whole System Line For Nitrogen / Oxygen
White Gas Separation Equipment Whole System Line For Nitrogen / Oxygen

Brief Technical Parameters index
1.) Nitrogen flow: 1-3000Nm3/h.
2.) Nitrogen purity: 95-99.9995%.
3.) Nitrogen pressure: 0.05-1.0 Mpa.(if need higher pressure,only to add the booster.)
4.) Dew point: from -60 to -45 degree celsius.
Brief Introduction for PSA Nitrogen Generator Principles
When the process adopts lifting air, oxygen and nitrogen have different diffusion rate and adsorptive capacity to separate oxygen from nitrogen on carbon molecular sieve(CMS). When air is compressed to 0.8MPa, air source enters in pressure-swing adsorption tower for separation after being purified through dry and oil-water separation process (filter). Oxygen molecules are diffused and adsorbed in carbon molecular sieve under pressure. Non-adsorbed nitrogen is discharged from outlet of adsorption tower. Oxygen is desorbed, discharged and purged in adsorption tower under depressurization. Moreover, adsorbent can be recycled.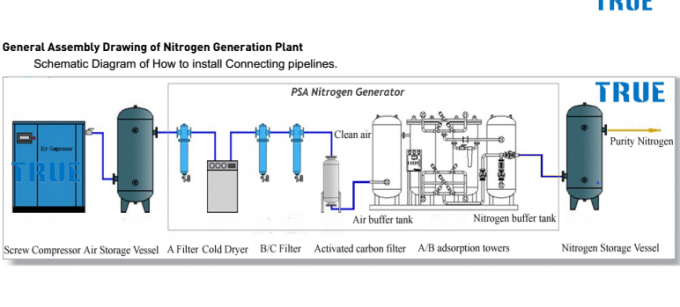 Specification
1. Place of Origin: Jiangsu,China.
2. Brand Name: TRUE.
3. Model No.: TY
4. Color: Silver,bright and white.
5. Nitrogen flow: 30Nm3/h.
6. Nitrogen purity: 99.995%.
7. Dew point:-45 degree Celsius.
8. Warranty period: One and a half years.
9. Product life: At least 10years or longer.
10 .Outlet pressure: 0.05-1.00Mpa.
11. Material: Steel.
12. Packaging details: Standard,if need wooden,will charge for cost.
13: Delivery time: Within 10days,when received 50% advance payment.

Main Parameters
Type & Modles
Main Parameters
Nitrogen flow (Nm³/h)
Air consumption (m³/h)
Air pressure
Purity
Shape and dimension(L*W*H mm)
Voltage
Weight
TY395-100
100
7.5
0.8-1.0Mpa
≥99.95%
3300*2600*2800
220V50HZ
1800kg
TY395-200
200
15
0.8-1.0Mpa
≥99.95%
3300*2800*2900
220V50HZ
2500kg
TY395-300
300
17.5
0.8-1.0Mpa
≥99.95%
3500*2800*2900
220V50HZ
3000kg
TY395-400
400
23.5
0.8-1.0Mpa
≥99.95%
3500*2800*2900
220V50HZ
3500kg
TY395-500
500
29.2
0.8-1.0Mpa
≥99.95%
3500*2800*2900
220V50HZ
4000kg
TY395-600
500
35
0.8-1.0Mpa
≥99.95%
3600*3000*2900
220V50HZ
4500kg

Performance Characteristics of the Equipments
In order to meet the requirements on small nitrogen-making equipment in food package and gas-adjusting storage of fruits and vegetables etc. industries, we designs TRUE series small nitrogen generator for food package by dynamic analogue optimization. Such equipment has numerous features, such as stable and reliable operation, convenient and simple start as well as high nitrogen-making speed. Operator of such equipment should not receive special training. In addition, such equipment has compact structure, which can be easily moved because of small volume.
Main Applications
1.) Food, Beverage, Cereal & Drug Industries: It's suitable to use in gas-adjusting package and nitrogen package of fruits, vegetables, flowers, tea leaves and puffed food, custard pie, milk bread, European-style egg roll, various cookies, farm products and local special products, such as rice, seed and chestnut, also kinds of drugs etc .
2.) Metallurgy: For anneal protection, agglomeration protection, nitrogenizing, furnace washing and blowing, etc. Used in fields such as metal heating treatment, powder metallurgy, magnetic material, copper process, metallic mesh, galvanized wire, semiconductor, etc.
3.) Chemical and new material industries: For chemical material gas, pipeline blowing, gas replacement, gas protection, product transport, etc. Used in fields such as chemical, urethane elastic fiber, rubber, plastic, tyre, polyurethane, biological technology, intermediate, etc.
4.) Electronic industry: For encapsulation, agglomeration, anneal, deoxidization, storage of electronic products. Used in fields such as peak welding, circumfluence welding, crystal, piezoelectricity, electronic porcelain, electronic copper tape, battery, electronic alloy material, etc.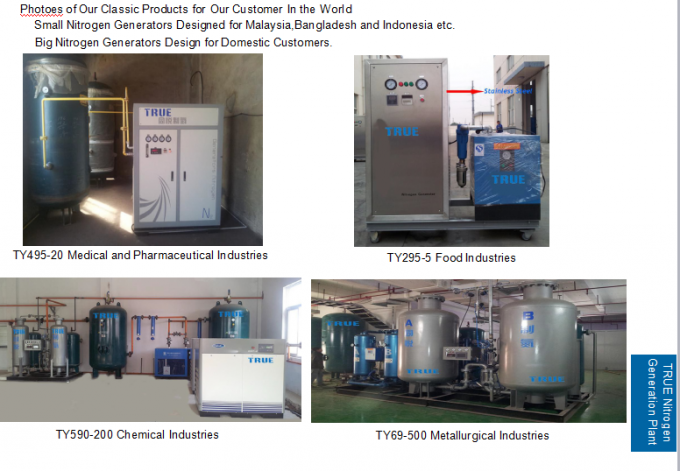 干燥剂空气干燥器用氧化铝陶瓷球分子筛吸附剂
合成深加工后形成的活化分子筛粉末
用于脱水的活化4A沸石粉末分子筛吸附剂
氧化铝化学填料球分子筛活化陶瓷填料显示高稳定性