2000Nm3 / H Mobile Nitrogen Generation Unit Container Type For Oil / Gas Industry
2000Nm3 / H Mobile Nitrogen Generation Unit Container Type For Oil / Gas Industry
TRUE nitrogen generator function:
1, Strict air treatment system
2, Unique low-speed diverter and non-friction soft compaction device
3, durable pneumatic valve
4, low-noise silencer of innovative design
4, unique touch switch and LCD in the nitrogen industry; Data can be modified arbitrarily
6, of high automation and can be duty-free
5, of reasonable and compact structure
6, efficient nitrogen-making in short period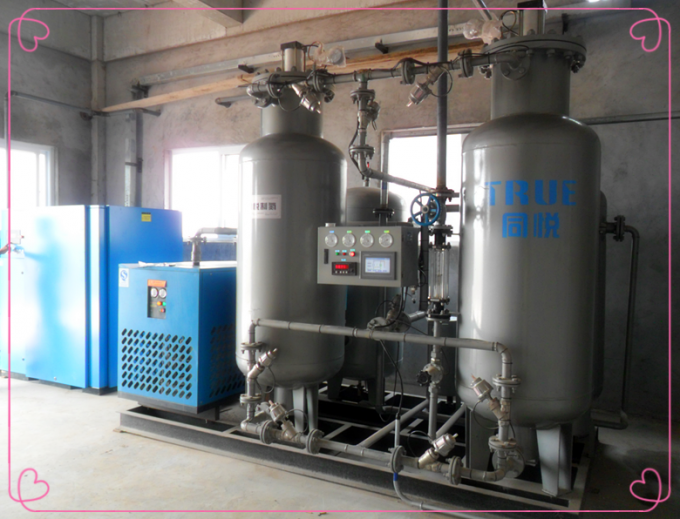 Technical advantages of filling the molecular sieve
The following two diagrams are the density of the storm loading method and the aging frequency modulation filling method (Tong Yue), which show the technical advantages of Tong Yue.
The enterprise attaches great importance to technological innovation and intellectual property protection work. Up to now, there have been a total of 9 patents declared, 7 of which have been authorized.
| | | | |
| --- | --- | --- | --- |
| serial number | Patent No. | Patent No.( Accept No.) | patent families |
| 1 | PSA highly efficient starting device | Patent No.:ZL 2010 2 0139342.9 | utility model |
| 2 | Automatic control system of nitrogen generator with frequency conversion | Patent No.:ZL 2012 2 0408277.4 | utility model |
| 3 | Exhaust gas recycling and utilization device | Patent No.:ZL 2013 2 0867590.9 | utility model |
| 4 | Automatic control device for nitrogen purity | Patent No.:ZL 2013 2 0867632.9 | utility model |
| 5 | PSA constant pressure constant regeneration system | Patent No.:ZL 2010 2 0139343.3 | utility model |
| 6 | PSA cyclone umbrella type honeycomb air flow diffusion device | Patent No.:ZL 2013 2 0139344.8 | utility model |
| 7 | PSA low decibel silencer | Patent No.:ZL 2013 209 39345.2 | utility model |
| 8 | Top gathering fountain type gas collecting device | Patent No.:ZL 2010 2 0569506.1 | utility model |
| 9 | Dynamic cylinder pressing device | Patent No.:ZL 2011 2 0015073.X | utility model |
| | | | |
| --- | --- | --- | --- |
| serial number | Patent No. | Patent No.( Accept No.) | patent families |
| 1 | PSA highly efficient starting device | Patent No.:ZL 2010 2 0139342.9 | utility model |
| 2 | Automatic control system of nitrogen generator with frequency conversion | Patent No.:ZL 2012 2 0408277.4 | utility model |
| 3 | Exhaust gas recycling and utilization device | Patent No.:ZL 2013 2 0867590.9 | utility model |
| 4 | Automatic control device for nitrogen purity | Patent No.:ZL 2013 2 0867632.9 | utility model |
| 5 | PSA constant pressure constant regeneration system | Patent No.:ZL 2010 2 0139343.3 | utility model |
| 6 | PSA cyclone umbrella type honeycomb air flow diffusion device | Patent No.:ZL 2013 2 0139344.8 | utility model |
| 7 | PSA low decibel silencer | Patent No.:ZL 2013 209 39345.2 | utility model |
| 8 | Top gathering fountain type gas collecting device | Patent No.:ZL 2010 2 0569506.1 | utility model |
| 9 | Dynamic cylinder pressing device | Patent No.:ZL 2011 2 0015073.X | utility model |
干燥剂空气干燥器用氧化铝陶瓷球分子筛吸附剂
合成深加工后形成的活化分子筛粉末
用于脱水的活化4A沸石粉末分子筛吸附剂
氧化铝化学填料球分子筛活化陶瓷填料显示高稳定性